The Revelation Church Refutes Claims Of Keeping Moesha Boduong's Properties
The Revelation Church, which helped actress Moesha Boduong, now Maurecia, renounce her old ways, has refuted claims the born again Christian has given away all her property and money to them.
In a press release, the Revelation church stated that the allegations are a "blatant lie from the pit of hell", adding that all the church has done since she joined them was to show her the love of Jesus Christ consistently.
"We would like to categorically state that at no time has  Moesha Boduong or any member of her family given any properties, cars or sale proceeds to either the Lead Pastor or the church. This is verifiable," parts of the statement read.
The church added that they have also not given anything to the actress to eat or drink as purported by some individuals.
A few weeks ago, Miss Boduong announced her repentance in a video as she shared her testimony at the Revelation Church. The social media influencer deleted all the skimpy photos of herself on her Instagram page to walk the talk.
She went ahead to make some startling revelations about her life over the years after becoming well-known in the country.
In a viral video sighted by GhArticles, the 31-year-old actress said she attempted suicide by jumping off an uncompleted storey building but was stopped by some workers nearby.
The actress revealed that she has emptied her account and sold her luxurious Range Rover car. According to her, the money which she used to live her extravagant lifestyle is "dirty"; thus, she doesn't want to associate herself with it anymore.
Speaking to some people around her, she said, "I don't have anything. I have given back everything. See the way I am looking now; I am happier than those days that you'd see me driving Range Rover and travelling around."
After the video went viral, socialite Aisha Modi claimed Moesha Boduong gave the church and the lead pastor her money in another viral video.
The socialite claimed she was ready to fight the pastor spiritually if they failed to return Moesha to her "normal" state.
However, according to the church, after Maurecia's video went viral, they mobilized resources and escorted her from the scene and home.
With the family's consent on July 13, the church took the actress to a private place to help expedite her recovery process "with all related costs being borne by the church," parts of the statement read.
The Church revealed that on Wednesday, July 14, her family members decided to take her back home; hence, Maurecia/Moesha is currently in her family's care.
They stated that they are focused on ensuring that the actress now makes a full recovery through fervent prayer, care, and support in every way possible.
"Such careless statements are tantamount to defamation and will be treated with the is to seriousness they deserve, including legal action if it becomes necessary.
"Ordinarily, the church would not have responded as our focus is on her recovery and wholeness. However, this response has become necessary to set the record straight."
We Will Love You To Join Our Over 100k Members Instagram Family With Just One Click @gharticles
Source: GhArticles.com
JUST IN : Mr Eazi Launches Scholarship Fund To Support Students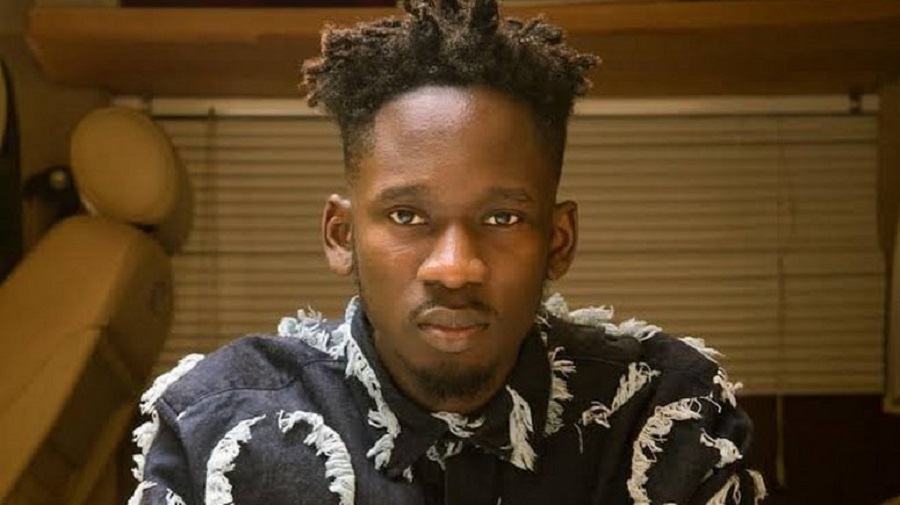 International music sensation and business man,
Oluwatosin Ajibade,
popularly
known in showbiz
circles
as 
Mr Eazi
 has instituted a scholarship scheme to 
support
 needy
undergraduate
students at the C. K. Tedam University of Technology
and
Applied Sciences (CKT-UTAS).
The scholarship scheme, which started with an initial seed money of GHS200,000 is expected to cover the full fees of 100 students of CKT-UTAS every year.
                                                Mr Eazi
The gesture comes in the wake of recent difficulties encountered by many students in the payment of their fees and thereby disrupting their education.
Who can apply for Mr. Eazi Students Fund?
1.
The Scholarship is open to 
all students on
 the C. K. Tedam University of Technology and Applied Sciences Campus, from level 100 to level 400.
2.
All Applicants 
must have in their possession,
 their admission letter and a valid student's identity card.
3.
The Applicant must be without any criminal record or not have faced any disciplinary action.
4.
The Applicant should not be on any other scholarship scheme that covers his/her AFUF.
5.
The Applicant must demonstrate that he/she has Critical Economic Needs.
6.
Priority shall be given to:
•
Displaced Persons (Certified Refugees, Internally Displaced Persons, etc.)
•
Persons with Disability
7.
The Applicant must be committed to supporting the CKT-UTAS Students Financial Services in later years should they successfully get employed after school.
8.
The scholarship 
application form is free
 and has a feature of a "
2021/2022
" watermark.
9.
Qualified applicants should apply for the scholarship as soon as they can.
10.
Applicants who have already made at least 60%-part payment of their fees can apply for support to pay the remaining amount.
11.
Inaccurate information or fraudulent misrepresentation on the part of any applicant and any attempt to influence the process will lead to disqualification and a recommendation for dismissal from the university.
It is the hope of Mr Eazi and the University that beneficiaries of the Fund will be able to complete their studies despite their economically challenged background. Eligible candidates for the scholarship can apply by downloading the application forms from the students portal @ https://mis.cktutas.edu.gh/.
Mr.  Ajibade is the CEO and founder of emPawa Africa group of companies that has a corporate presence in Nigeria, Ghana, Rwanda, Dubai, and London. emPawa Africa has grown to become one of the biggest wholly African-owned entertainment companies on the continent, which leverages Mr. Ajibade's vast experience and network to provide a gateway for upcoming and established acts across the world.
In addition, Mr. Ajibade performs under the name Mr Eazi – a household name across Africa and growing in international prominence. He has performed numerous shows, including headlining the Ghana Music Festival and performing sold-out shows around the world. He is also a recipient of several prestigious international awards. Prior to launching a huge career in showbiz, Mr. Ajibade had enrolled at the Coventry University in the UK where he studied and obtained a Master of Science in Engineering Business Management (M.Sc. Engineering Business Management) in 2015, having obtained a Bachelor of Science in Engineering from the Kwame Nkrumah University of Science & Technology, Kumasi, Ghana in 2011.   
Blac Chyna Gets Baptized On Birthday As She Gives Life To Christ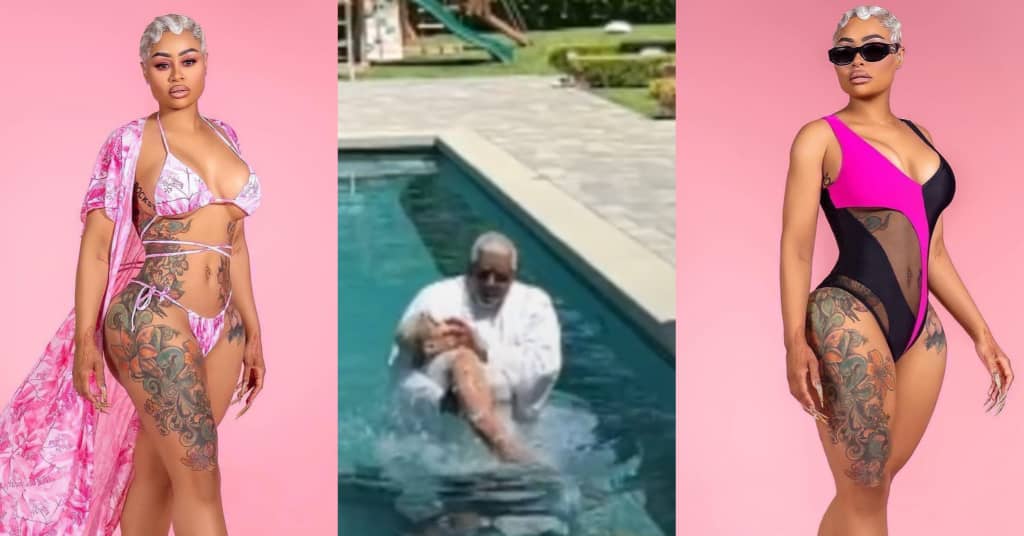 Angela Renée, also known as Blac Chyna, says she is a born again Christian as she is baptized on her birthday.
The mother of two has turned a new age and has declared that she is now a born again Christian.
Despite her current court problems, which include allegations that she assaulted a woman in a pub, the reality star is eager for a new start.
She published a video of her baptism on her verified Instagram profile, claiming she's now a born again Christian who plans to start over now that she's devoted her life to Christ.
Blac Chyna is an American model and socialite.
She originally rose to prominence in 2010 as the stunt double for Nicki Minaj in the music video for the song "Monster" by Kanye West.
Check out the video she shared below:
View this post on Instagram
We Will Love You To Join Our Over 201k Members Instagram Family With Just One Click @gharticles
Source: GhArticles.com
BREAKING NEWS: Tonto Dikeh's Ex, KpoKpogri Cries Out As FCDA Demolishes His N700m+ House In Abuja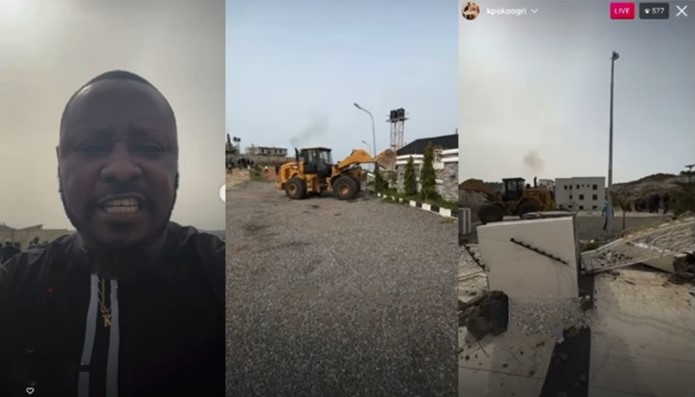 Nollywood screen goddess Tonto Dikeh's ex-boyfriend, Prince Kpokpogri has posted a video capturing the moment Federal Capital Development Authority, FCDA destroyed his mansion.
He cried out bitterly during an his Instagram live session while showing the aftermath of the demolition of the gate and fence to his house.
The Nigerian politician said he does not know the motive behind the demolishing of his over N700million mansion.
Adding that his building was brought down as there was no prior notice to that effect.
The businessman further lamented that his children were still inside the house while they were bringing it down.
The viral video has garnered a lot reactions on social media with many netizens reaction to the disturbing video.
Watch the video below;
View this post on Instagram
We Will Love You To Join Our Over 201k Members Instagram Family With Just One Click @gharticles
Source: GhArticles.com