Stonebwoy Dominates Spotify Streams In Europe And Canada
He made these comments in a short documentary put together by Spotify to celebrate Ghana's 65th independence.
Although he is widely known as a formidable Afropop, Dancehall and Reggae musician, according to Spotify, Stonebwoy dominates hiplife streams on its platform in several European countries and Canada.
In a press release from Spotify on 9th March, 2022, the audio streaming platform indicated that;
"For Stonebwoy, who is Ghana's most-streamed artist for hiplife tracks in the UK, Netherlands, Germany, Canada, Sweden, and Spain, joining forces with Caribbean artists and plugging into Caribbean music influences have been crucial,"
Explaining why working with Africans in the Diaspora is extremely important to his craft, Stonebwoy declared that he thinks Ghana has an incredible connection with her estranged kith and kin, which when tapped into, helps to enrich the communion between them.
"Ghana has been collaborating especially with the Caribbean nations — Barbados the other time, Jamaica… so that we continue to experience one another, as Black people, as those who are believed to have had their roots deep down their Ghanaian lineage. Most of the countries or all the countries in the Caribbean are linked to Africa. I always say: Ghana has the soul", he said in Spotify's documentary.
In the past years, Stonebwoy has collaborated with at least 25 Jamaican artists not to talk of other acts in the Caribbean. Some of the heavyweights he has worked with include; Morgan Heritage, Buju Banton, Sean Paul, Jahmiel, Beniton, Jah Vinci, among others.
Only Sarkodie comes close as the rapper's "hiplife tracks have seen him sit atop the rankings of the most streamed hiplife music artist in the USA, France, Nigeria, Italy, Australia, and Belgium," according to Spotify.
According to the Swedish music streaming powerhouse, twelve countries outside Ghana share 86% of exported hiplife streams on its platform. The USA "alone" accounts for 22.02%. of those streams.
Spotify has been available on the continent since 2018, a decade after it changed music listening when it was launched in 2008.
At the moment, the streaming platform is the world's most popular audio streaming subscription service with 406 million users, including 180 million subscribers, across 184 markets.
We Will Love You To Join Our Over 190k Members Instagram Family With Just One Click @gharticles
Source: GhArticles.com
Moesha Buduong Returns To Acting
The actress is featured in a yet to be released TV series from the camp of writer and producer, Kofi Asamoah.
In a snippet shared online, Moesha Buduong is seen having a conversation with colleague actor Big Akwes.
She wore a sleeveless body con dress with an animal imprint and a headscarf.
This comes after Moesha Buduong took a break after she made some startling revelations about the life she lived over the years.
We Will Love You To Join Our Over 200k Members Instagram Family With Just One Click @gharticles
Source: GhArticles.com
It's Not A Sin To Drink Alcohol, Rev. Owusu Bempah Urges Christians
Rev. Isaac Owusu Bempah, founder and leader of Glorious Word and Power Ministry International, distinguishes between drinking and getting drunk.
The Bible does not forbid Christians from drinking alcohol, but it does forbid boozing, he said.
"Let us distinguish between drinking and boozing. The erratic behaviour that is likely to occur when you drink alcohol is not pleasing to God. "But when you drink and don't get drunk, nobody can stop you or accuse you of sin," he said on Okay FM's Ade Akye Abia morning show in an interview.
Rev. Bempah was responding to GIHOC Distilleries CEO Maxwell Kofi Jumah's earlier statement that one cannot claim to be Christian and not drink alcohol.
"No Christian can deny drinking alcohol. "Jesus didn't say to drink to forget him, but to remember him," Mr Jumah said.
"When you read the bible, you realise Jesus did not condemn alcohol when he came to earth," Rev. Bempah said, confirming Mr Jumah's position. That's why it wasn't Fanta or Coke.
"I understand if someone says drinking alcohol is wrong. But I disagree with those who say alcohol is a sin. For me Owusu Bempah, it is difficult to see me drunk or even drinking. It's hard. No, I don't like it, but I won't judge someone who does.
We Will Love You To Join Our Over 200k Members Instagram Family With Just One Click @gharticles
Source: GhArticles.com
Netizans Raise Eyebrows Over Sonnie Badu's Tattoo Says 'It's Ungodly'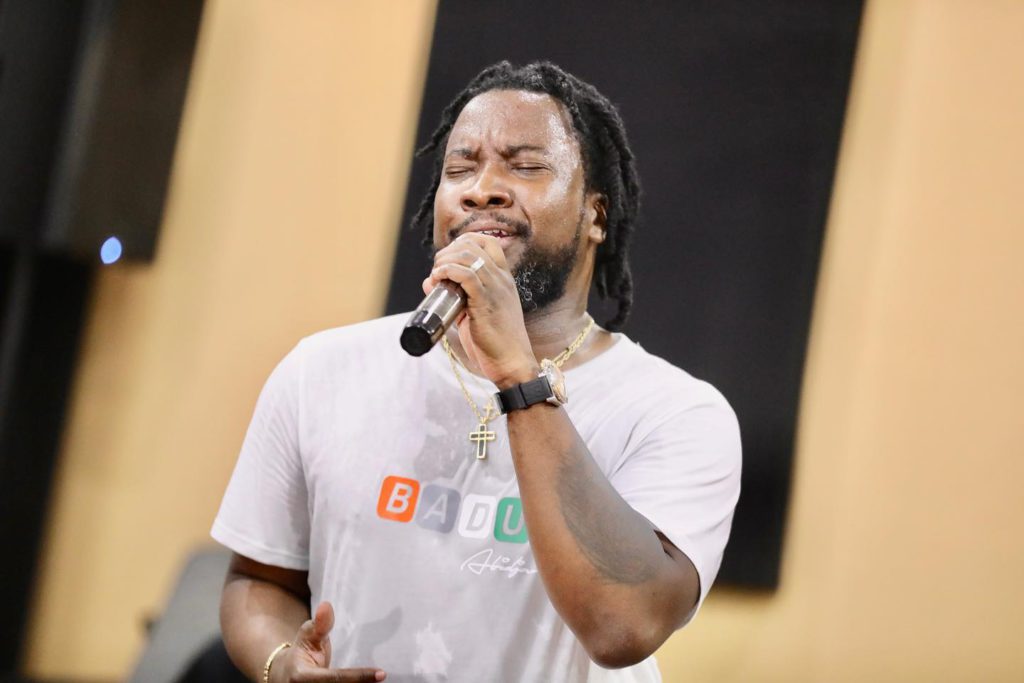 Social media users are divided on whether or not getting a tattoo is a good thing or a sin in the eyes of God.
This debate started after they spotted a tattoo on the arm of gospel singer Sonnie Badu.
In a now-deleted post on Instagram, Sonnie Badu shared a picture of himself ministering in Ivory Cost in a white shirt that showed off the tattoo.
"From Ghana, Nigeria, Atlanta, and Canada this project has all my BaduNation citizen's coming… IvoryCoast Abidjan – you are about to experience the BADUfamily… They were carefully selected and are extremely skilled in their craft.," he captioned the post.
The picture, however, did not get the attention Sonnie Badu expected. Some people in the comment section believed that it was ungodly for the singer to get a tattoo.
We Will Love You To Join Our Over 200k Members Instagram Family With Just One Click @gharticles
Source: GhArticles.com