South African Riot Overnight Defying Calls To End Violence
Crowds in South Africa have looted shops and businesses on Wednesday, defying government calls to end a week of violence that has killed more than 70 people, wrecked hundreds of businesses and shut down a refinery.
Protests that followed the jailing of ex-president Jacob Zuma last week for failing to appear at a corruption inquiry have widened into looting and an outpouring of general anger over the hardship and inequality that persist 27 years after the end of apartheid.
Shopping malls and warehouses in South Africa have been ransacked or set ablaze in several cities, mostly in Zuma's home in KwaZulu-Natal (KZN) province to the country's biggest city Johannesburg and surrounding Gauteng province..
But overnight it spread to two other provinces – Mpumalanga, just east of Gauteng, and Northern Cape, police said in a statement.
South Africa's largest refinery SAPREF in Durban has been temporarily shut down due the unrest, an industry official said on Wednesday.
The United Nations in South Africa expressed concern that the violence was disrupting transport for workers and medical staff and causing shortages of food, medicine and other essential products.
"This will exacerbate the already social and economic hardships caused by joblessness, poverty and inequality in the country," it said in a statement on Tuesday night.
Security officials said on Tuesday the government was working to halt the spread of the violence and looting.
The national prosecuting authority has said it will punish those caught looting or destroying property, a threat that so far has done little to deter them.
Soldiers have been sent onto the streets to help outnumbered police contain the unrest.
We Will Love You To Join Our Over 100k Members Instagram Family With Just One Click @gharticle
Source: GhArticles.com
Killed Haiti President, Jovenel Moïse Buried!
Haiti's murdered president, Jovenel Moïse, has been laid to rest today, July 23, 2021, more than two weeks after he was assassinated in a late-night raid.
Pallbearers in military attire carried late Haitian President Jovenel Moise's body in a closed wooden coffin as his funeral got underway.
Moïse's casket was draped with the Haitian flag and adorned with white flowers.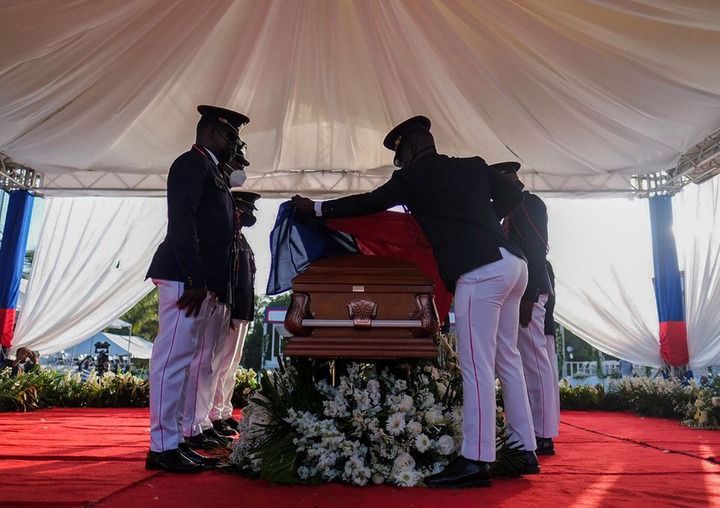 The bearers placed the polished casket on a dais garlanded with flowers in an auditorium. Four stood guard as a Roman Catholic priest blessed the coffin and a Haitian flag was unfurled.
Among those in attendance were Helen La Lime, special representative of the U.N. secretary-general for Haiti. Linda Thomas-Greenfield, the U.S. ambassador to the United Nations, is leading a delegation from the United States.
Ahead of the funeral, there was tension in Haiti's north, where Moïse was born as demonstrators set up roadblocks and demanded accountability for the president's death.
The Associated Press reported that one man appeared to have been shot dead Wednesday in Quartier-Morin, a commune outside Cap-Haïtien.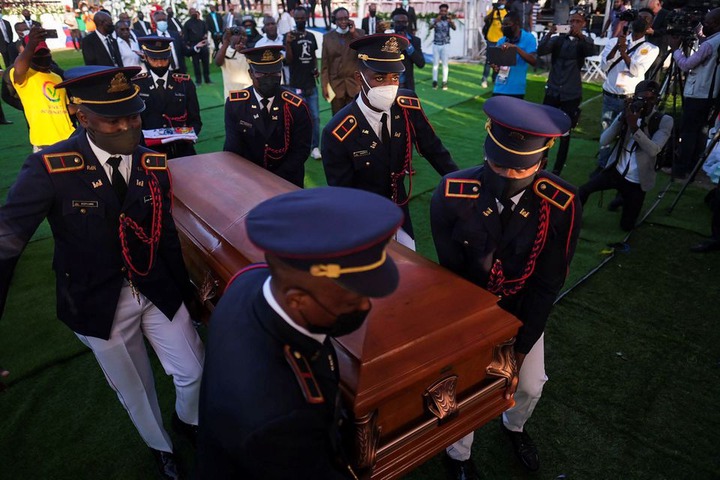 In the early hours of July 7, gunmen stormed into his home and shot him dead. Moïse's widow, Martine Moïse, also sustained injuries in the attack that killed her husband.
Police have arrested more than 20 people, including two Haitian Americans and several former Colombian soldiers, but the precise motive for the killing remains unclear.
The assassination also led to confusion about who would lead Haiti in the event of a president's death, with three politicians claiming they were the rightful leader. On Tuesday, Ariel Henry was sworn in as the country's new prime minister after interim prime minister Claude Joseph agreed to step aside.
Source: GhArticles.com 
"Do Whatever You Want With It"- Jeff Bezos Tell CNN Commentator As He Donates $100m
Jeff Bezos has once again donated a hefty amount of money as his philanthropic initiation.
Known to be the wealthiest man in the world, Jeff Bezos seems to be having yet another eventful week—and he decided to end it by giving away a very nice portion of his multi-billion-dollar fortune.
Following his recent trip to space, Jeff Bezos clearly must have been feeling overly generous because he just donated $100 million to popular CNN commentator Van Jones.
A CNN report, monitored by GhArticles indicpates that Amazon founder Jeff Bezos is no stranger to charitable contributions, but his latest show of generosity left regular CNN commentator Van Jones speechless.
Read Also: Jeff Bezos becomes the world's first person to hit a net worth of $200 billion
Bezos announced that he was donating $100 million to Jones to do "whatever he wants," as he stated that Jones was one of two recipients of the Courage and Civility Award, which is one of his "surprise" philanthropic initiatives. Bezos also added that "They can give it all to their own charity or they can share the wealth. It is up to them." The donation and award is to honor those who have "demonstrated courage" and tried to be a unifier in a divisive world, Bezos explained. The other recipient was Chef Jose Andres.
As he accepted the massive financial gift, Van Jones expressed his shock and appreciation, saying "sometimes dreams come true." He also told Jeff Bezos, "You bet on me and I appreciate it. [It's money for me to] "give to others who have a similar spirit."
Bezos laid out what the Courage and Civility Award is and why the mission is so important to him:
"We need unifiers and not vilifiers. We need people who argue hard and act hard for what they believe. But they do that always with civility and never ad hominem attacks. Unfortunately, we live in a world where this is too often not the case. But we do have role models."
Earlier this week after returning from his headline-making trip to space, Jeff Bezos received a bit of backlash for thanking his Amazon employees and customers for "paying for the trip,"—which some felt was insensitive.
We Will Love You To Join Our Over 100k Members Instagram Family With Just One Click @gharticles 
Source: GhArticles.com 
'Snake Man' Dies From A Cobro Bite
A Filipino 'Snake Man' who claimed to be immune to venom died after a cobra bit him on the tongue as he tried to kiss it.
The 'Snake Man' Bernardo Alvarez, 62, died after being bitten by cobra while appearing to try and kiss its lips after it slithered into his neighbourhood and he 'tamed' it.
A Filipino 'Snake Man' who claimed to be immune to venom died after a cobra bit him on the tongue as he tried to kiss it.
Neighbour's cheered for Bernardo for managing to 'tame' another deadly creature.
However, while he showed off the snake to onlookers, Bernardo cheekily held the cobra close to his lips like he was trying to kiss it before the cobra lunged at his mouth and bit his tongue.
He screamed in pain before dropping the cobra then collapsed and died shortly after while waiting for medics to arrive.
Angry locals also killed the snake.
Provincial Health Officer Dr Anna de Guzman said: "The snake's venom can cause paralysis which is what happened to the snake Man" .
"This paralysis could stop the breathing of the victim, affect the flow of oxygen in the body, and eventually stop the beating of the heart."
Medics rushed to revive Bernardo but he was no longer responsive and his body was already stiff from the effect of the venom.
Bernardo's sister Teresa Oca said: "A policeman and a doctor arrived to check on him and told us he had no pulse so they tried to revive him" .
"They were not successful since the cobra's venom was too strong. We don't know how we could accept what happened to him."
Funeral arrangements were done by Bernardo's family at their home. He was set to be buried this week.
The Northern Philippine Cobra is widely recognised as one of the most venomous snakes in the world. Its toxins directly attack the respiratory system of its victims so a single bite could be extremely deadly.
We Will Love You To Join Our Over 100k Members Instagram Family With Just One Click @gharticles
Source: GhArticles.com