Some Students Stuck In Ukraine Have Refused To Come Back To Ghana As First Batch Arrived Today – Minister Of Foreign Affairs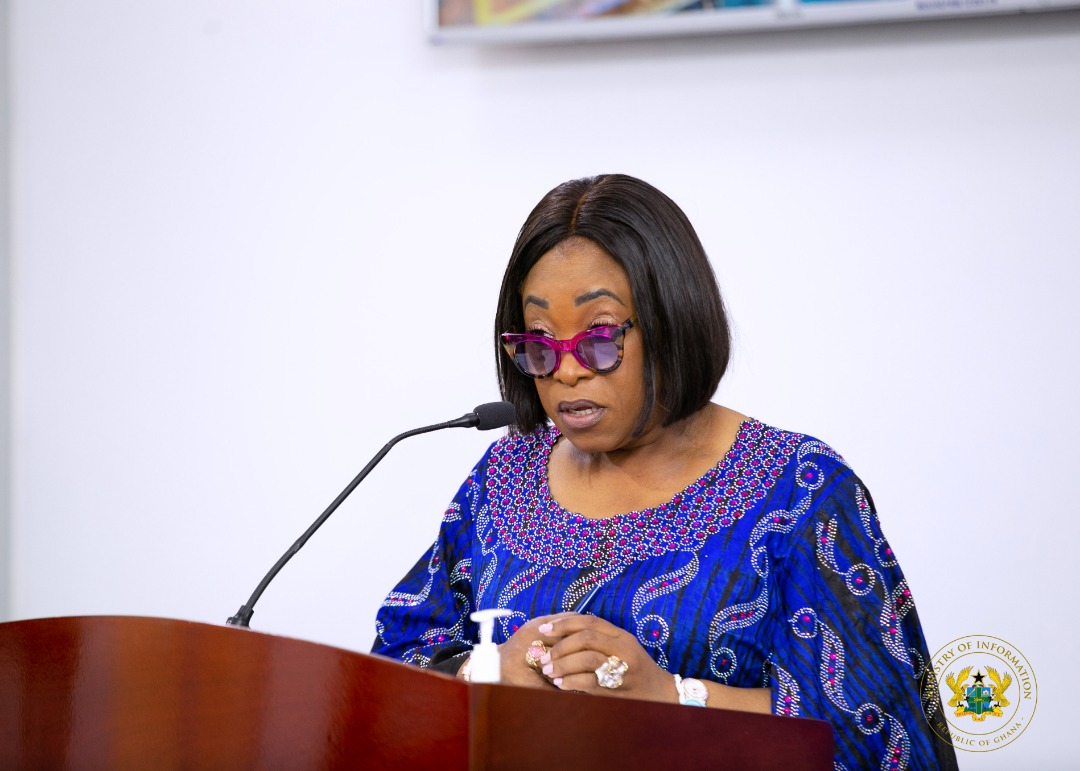 The Minister of Foreign Affairs and Regional Integration, Shirley Ayokor Botchway has revealed that some Ghanaians in Ukraine have indicated that they do not want to come back home.
She said at a meeting in Accra on Tuesday, March 1, with parents and guardians of Ghanaian students in Ukraine, that the government is evacuating persons who are willing to return.
"As at 5 PM on 28th of February, an estimated number of 527 Ghanaian nationals have crossed the Ukrainian border to various neighbouring countries and they will soon be with us in Ghana as long as they are willing to be evacuated, it will be at no cost to them.
I say that because some have indicated that they do not wish to come back home. So after a couple of days, they will be on their own because the government cannot cover those people forever. What we are covering is to pick them to a safe place to bring them back home as many of you parents have indicated that you want your children back home, so the government will do that" she said.
The first batch of Ghanaians evacuated from Ukraine has arrived in Accra on Tuesday, March 1.
"This morning the first batch of Ghanaians evacuated from Ukraine arrive in Accra," Information Minister Kojo Oppong Nkrumah said in a tweet.

Welcoming them, Mr Ampratwum-Sarpong said "My fellow compatriots, on behalf of the President, His Excellency Nana Addo Dankwa Akufo-Addo and the Government and People of Ghana, I heartily welcome you all back home. We thank the Almighty God for keeping you safe and for granting you traveling mercies.
"My dear students, we are proud of you for the bravery and perseverance you exhibited in the face of the dire situation you found yourselves in. You have had to halt your studies and other activities to escape the conflict between Russia and Ukraine. Some of your colleagues are yet to be evacuated from Ukraine.
Let me assure you that the Government of Ghana will continue to work to ensure their safety and return to Ghana.
The government will also continue to work with its International Partners to ensure that and urge for dialogue between Russia and Ukraine for a peaceful and quick resolution of this conflict.
We Will Love You To Join Our Over 190k Members Instagram Family With Just One Click @gharticles
Source: GhArticles.com
Marwako Food Poisoning: Authority Has No Mandate To Demand Compensation For Victims – FDA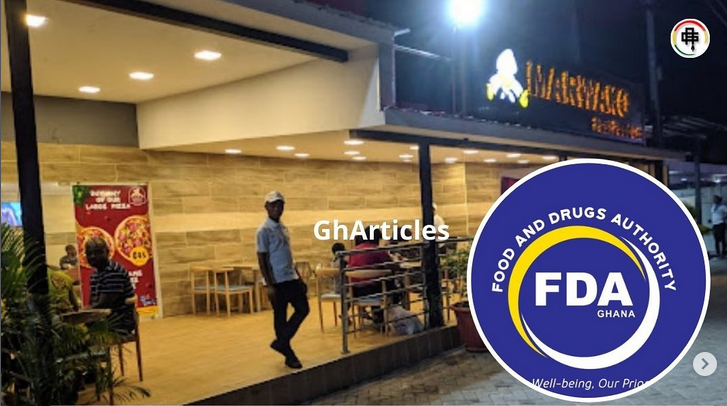 Food and Drugs Authority (FDA)'s Director of Legal says they cannot demand compensation for victims of the alleged food poisoning at Marwako's East Legon branch.
Joseph Bennie said the Authority has no mandate to pressure for amends in cash from the eatery to the affected persons.
In an interview with YEN.com.gh, monitored by GhArticles.com, Bennie said the FDA can carry out sanctions in the form of "a ban, fine, caution, or prosecution" in such cases.
The Acting Director's comments come amid widespread reports of food poisoning at Marwako's East Legon branch on social media, leading to the closure of the restaurant.
He said the closure of the eatery was to prevent an escalation of reported cases of food poisoning.
Speaking on the investigations, Joseph Bennie said the FDA is yet to establish the cause of the food poisoning. "Investigations will conclude in not less than a week or more," he told YEN.comgh, sighted by GhArticles.com.
As previously reported that the management of Marwako has appealed to the FDA to open other branches closed down following complaints of food poisoning at its East Legon branch.
PRO for Marwako Fast Food Ltd, Mohammed Amin Lamptey, said while the popular food business accepts the decision of the FDA, the industry regulator, it is only fair for the affected branch to be shut down.
"The FDA shut down of our branches is quite unfortunate and it is really something that is going to create another problem for Mawako Fast Foods Limited. In as much as we all know that it is an isolated case…we thought that the FDA will focus on the East Legon branch," Lamptey told reporters on Thursday, May 12, 2022.
View this post on Instagram
We Will Love You To Join Our Over 201k Members Instagram Family With Just One Click @gharticles
Source: GhArticles.com
Reduce 1.5% E-levy Rate — ISSER To Gov't
The Institute of Statistical Social and Economic Research (ISSER) wants the government to reduce the rate of the controversial electronic transfer levy.
According to ISSER, the government must consider a downward adjustment between 0.5% and 0.75% adding that the 1.5% on all electronic transfers is punitive.
The Director of the institute, Professor Peter Quartey, speaking on the topic: "Harnessing stakeholder engagement and feedback for research impact" at the 2022 ISSER Road Show at the University of Education, Winneba (UEW) said with the current 1.5% rate, the government's goal of mobilizing about GH¢4.1 billion would be missed as more people would avoid using the platform but instead use alternative methods to avoid paying the tax.
He stated that "The 1.5% E-transaction levy rate is punitive and should be revised downwards to between 0.5% and 0.75% to allow more people to use the service and avoid eroding the gains made in digital financial inclusion."
The E-levy was introduced by the government in the 2022 Budget for basic transactions related to digital payments and electronic platform transactions.
The rate will apply to electronic transactions that are more than GH¢100 daily. This is different from the 1% telcos charge on transactions.
The levy has sparked controversy because of its impact on mobile money transactions and the impoverished Ghanaians that use it.
We Will Love You To Join Our Over 201k Members Instagram Family With Just One Click @gharticles
Source: GhArticles.com
Heavy Downpour Leaves Some Parts Of Accra Flooded Again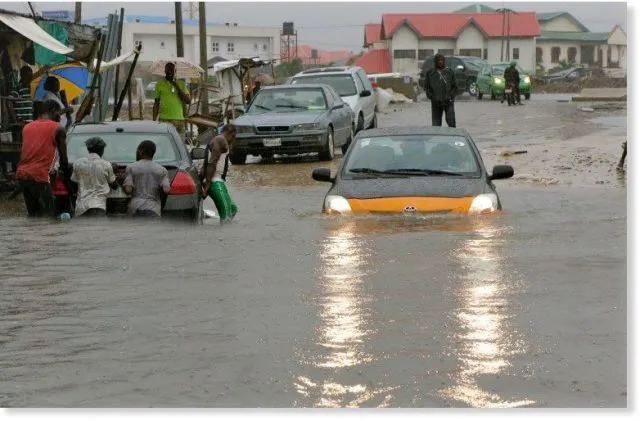 Some parts of Accra got flooded Saturday morning following a brief downpour.
Areas such as Kaneshie First Light, Abbosey Okai and Adabraka Sahara, Dansoman, and Odorkor were affected by the floods.
The situation resulted in heavy vehicular traffic in different parts of Accra.
Motorists were left with no choice but to abandon their vehicles after their cars and motorbikes got choked in the floods.
Also, there were many properties destroyed due to the rainwater entering the homes of some people in the capital.
Ghanaians have as usual expressed their anger and lamented at how a little rainfall causes floods.
Some Ghanaians who were affected by the floods quickly took to social media to lament the situation.
The video below shows the floods on the main Kaneshie highway in front of the market.
We Will Love You To Join Our Over 201k Members Instagram Family With Just One Click @gharticles
Source: GhArticles.com