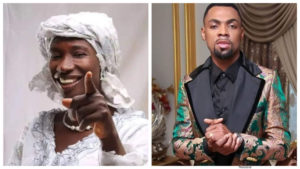 Revered Ghanaian pastor and founder of Anointed Palace Chapel (APC), Kwaku Agyei Antwi, widely known as Rev Obofour, has extended a generous gesture by gifting fellow minister and musician Cecilia Marfo with a sum of Gh20,000.
This philanthropic act followed the visit of the 'Afunumu Ba' sensation to the church of the controversial clergyman over the weekend. During a public presentation of the monetary gift to Cecilia Marfo, Rev Obofour expressed how deeply moved he is by the songs of the revered 'Woman of God,' stating that her music serves as a source of hope and solace during challenging times.
Expressing his admiration for the musician, Rev Obofour acknowledged Cecilia Marfo's recent disclosure regarding the significant decline in her church's membership. In an exclusive interview on Joy Prime's Prime Morning Show with Roselyn Felli, Cecilia Marfo revealed a drastic decrease in her congregation, plummeting from over 400 members to a mere 40.
Attributing the decline to issues involving fellow gospel musician Diana Asamoah and Assin Central Member of Parliament (MP) Kennedy Agyapong, Cecilia Marfo disclosed how these conflicts adversely affected her ministry. Despite this, she expressed forgiveness towards those who had a detrimental impact on her church.
During the presentation of the Gh20,000 gift to Cecilia Marfo, Rev Obofour advised her to maintain spiritual fervor as she continues her divine service. Drawing from his personal experiences of enduring social media criticisms and negative feedback from Ghanaians, Rev Obofour urged Cecilia Marfo to remain undeterred by external opinions.
Encouraging her to focus on her divine calling, Rev Obofour advised Cecilia Marfo not to dwell on public opinion but rather concentrate on the rewards that await her from God in due time. His advice emphasized resilience and a steadfast commitment to her ministry's purpose despite external challenges.
Source: Ameyaw Debrah