Pokuase 'Fufu Chop Bar': Operator Begs Authorities To Release Her 'Innocent' Husband And Father
The chop bar operator captured in the viral video on the pavement of the newly commissioned Pokuase Interchange has spoken for the first time.
The 32-year-old Comfort Dartey said her action was due to her quest to raise enough money to cater for her family.
She is, therefore, begging for clemency for her husband who was arrested after the video of them pounding fufu on the pavement of the Pokuase Interchange went viral on social media.
"My husband is innocent; please release him. I take full responsibility for my actions," she cried.
Her 60-year-old father, Kwame Addo, who was the one pounding the fufu, was also picked up by the police.
Madam Dartey said her father was assisting her one-month-old business which was booming before this incident happened.
"I normally prepare all the food in the house and sell by the roadside; I still don't know why I decided to pound the fufu on the pavement," she bemoaned.
Meanwhile, the Greater Accra Police Command has granted her husband and father bail pending investigations.
Deputy Superintendent of Police, Juliana Obeng, confirmed this on Adom News Wednesday.
She added that the suspects are required to report to the police to assist with investigations.
Source: GhArticles.com
Lemonade Finance presents Dr Likee in "Wo bεka nukrε"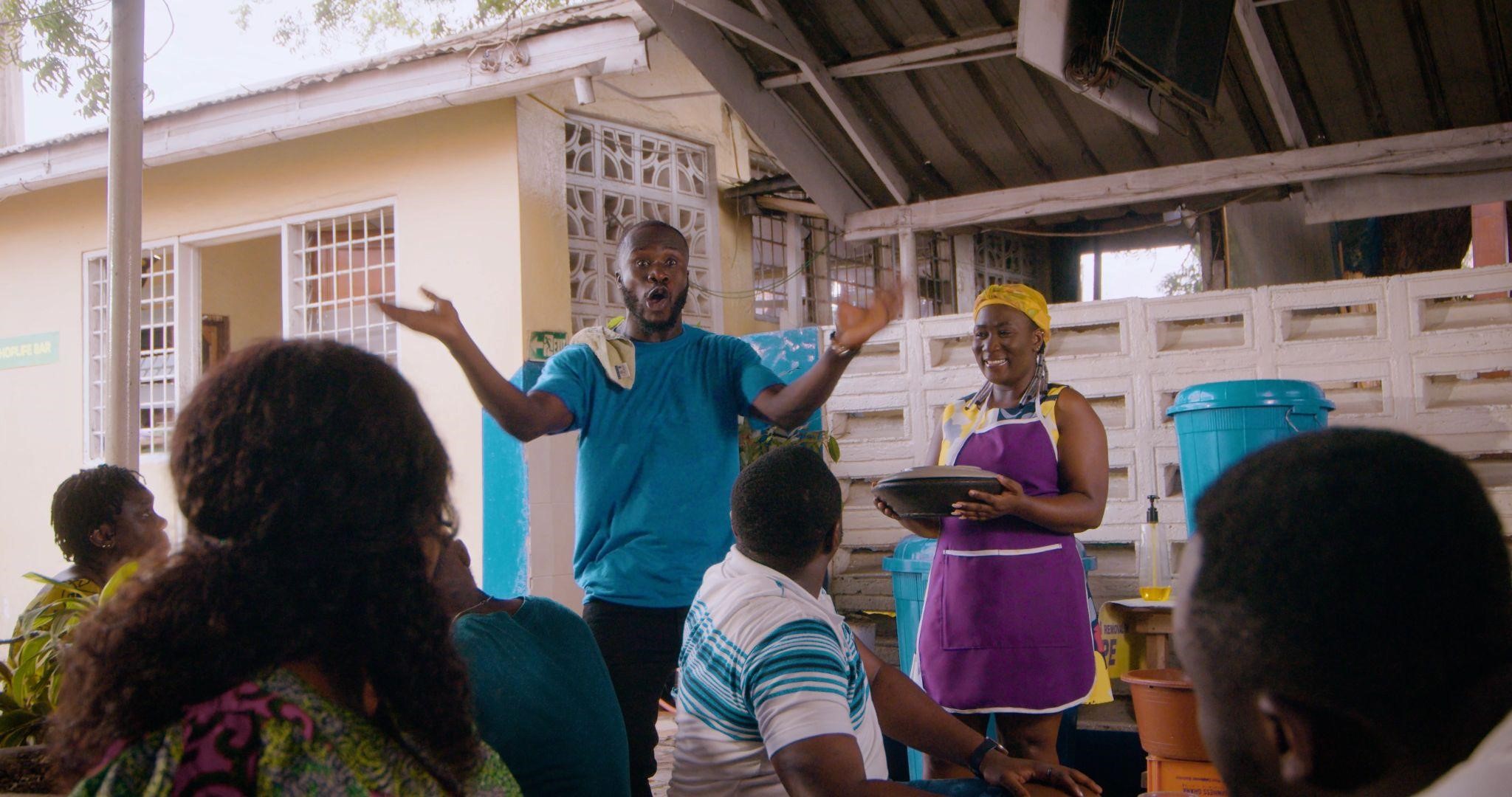 Lemonade Finance presents Dr Likee in "Wo bεka nukrε"
Lemonade Finance is a cross-border payment solution that enables Africans in the Diaspora to send money to Ghana and other African countries. The App is available on the iOS and Google Play Store.
On October 14th, 2022, Lemonade Finance announced prolific actor and comedian, Dr Likee as a brand ambassador, alongside Deloris Frimpong Manso and John Dumelo. Now, Lemonade Finance is delighted to present the one and only 'Ras Nene' in "Wo bεka nukrε". A first in a series of ads from the company.
Dr Likee stays in his usual character of spreading joy and laughter to his audience. Here, he brings his sharp wit and carefree character to a Chop Bar, hoping to eat and impress his long-time crush, Naomi. Spoiler alert! Thanks to Lemonade Finance, his Borga comes through. You can watch the ad here:
Dolapo Omotoso, Online Community Manager for Lemonade Finance, who has quickly become Dr Likee's biggest fan in-house had this to say about the ad and about working with his team.
"The way Dr Likee and his team have taken to bringing our vision to life, in their own unique way has been exciting to watch, he really is a fan favourite. "
You can download Lemonade Finance by following Customers who use the code DRLIKEE during signup will get a $10, £10 or C$10 cashback when they send over 100 Dollars, Pounds or Canadian Dollars to someone in Ghana or any our other supported African countries.
In addition to this series of ads, the Lemonade Finance website now has a new look, improved functionality, more information and a dedicated page for Ghana.
About Lemonade Finance
Lemonade Finance was founded on a simple goal, to make it easy for Africans to send and receive money from home easily.
With Lemonade Finance, Ghanaians in the UK, USA and Canada can send money to mobile money and bank accounts, at the best rates, instantly and at zero fees.
The Lemonade Finance app is used by thousands of Africans in the United States, Canada and the UK to send money back home to Ghana, Kenya, Nigeria and seven other African countries.
The Official Lemonade Finance channels are:
Instagram: @lemonade.finance, @lemonade.finance.gh
Twitter: @LemonadeFinance, @LemonadeFinGH
Facebook: @lemonade.finance, @lemonade.finance.gh
LinkedIn: lemonade-finance
YouTube: LemonadeFinance
Marwako Food Poisoning: Authority Has No Mandate To Demand Compensation For Victims – FDA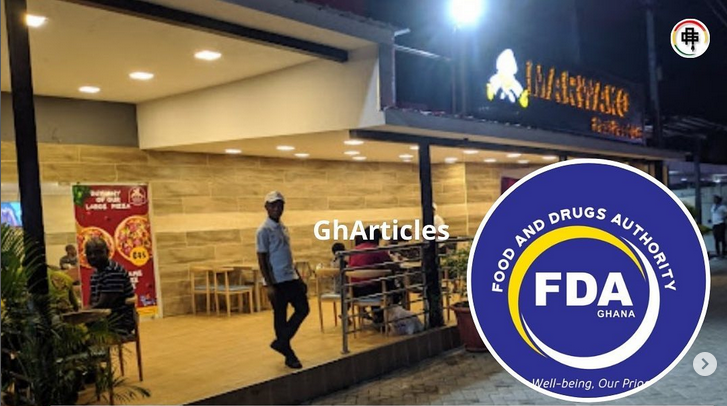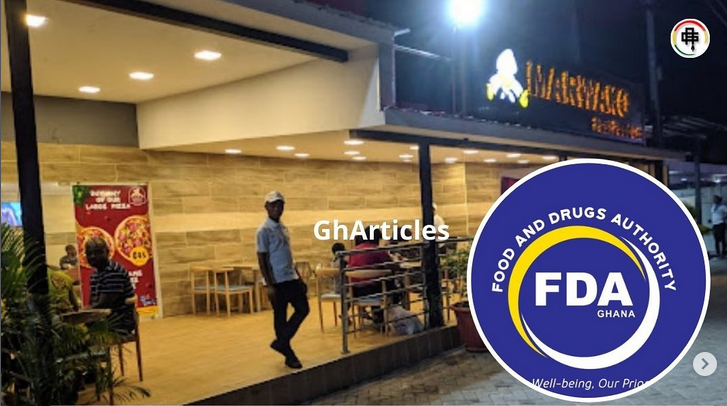 Food and Drugs Authority (FDA)'s Director of Legal says they cannot demand compensation for victims of the alleged food poisoning at Marwako's East Legon branch.
Joseph Bennie said the Authority has no mandate to pressure for amends in cash from the eatery to the affected persons.
In an interview with YEN.com.gh, monitored by GhArticles.com, Bennie said the FDA can carry out sanctions in the form of "a ban, fine, caution, or prosecution" in such cases.
The Acting Director's comments come amid widespread reports of food poisoning at Marwako's East Legon branch on social media, leading to the closure of the restaurant.
He said the closure of the eatery was to prevent an escalation of reported cases of food poisoning.
Speaking on the investigations, Joseph Bennie said the FDA is yet to establish the cause of the food poisoning. "Investigations will conclude in not less than a week or more," he told YEN.comgh, sighted by GhArticles.com.
As previously reported that the management of Marwako has appealed to the FDA to open other branches closed down following complaints of food poisoning at its East Legon branch.
PRO for Marwako Fast Food Ltd, Mohammed Amin Lamptey, said while the popular food business accepts the decision of the FDA, the industry regulator, it is only fair for the affected branch to be shut down.
"The FDA shut down of our branches is quite unfortunate and it is really something that is going to create another problem for Mawako Fast Foods Limited. In as much as we all know that it is an isolated case…we thought that the FDA will focus on the East Legon branch," Lamptey told reporters on Thursday, May 12, 2022.
View this post on Instagram
We Will Love You To Join Our Over 201k Members Instagram Family With Just One Click @gharticles
Source: GhArticles.com
Reduce 1.5% E-levy Rate — ISSER To Gov't
The Institute of Statistical Social and Economic Research (ISSER) wants the government to reduce the rate of the controversial electronic transfer levy.
According to ISSER, the government must consider a downward adjustment between 0.5% and 0.75% adding that the 1.5% on all electronic transfers is punitive.
The Director of the institute, Professor Peter Quartey, speaking on the topic: "Harnessing stakeholder engagement and feedback for research impact" at the 2022 ISSER Road Show at the University of Education, Winneba (UEW) said with the current 1.5% rate, the government's goal of mobilizing about GH¢4.1 billion would be missed as more people would avoid using the platform but instead use alternative methods to avoid paying the tax.
He stated that "The 1.5% E-transaction levy rate is punitive and should be revised downwards to between 0.5% and 0.75% to allow more people to use the service and avoid eroding the gains made in digital financial inclusion."
The E-levy was introduced by the government in the 2022 Budget for basic transactions related to digital payments and electronic platform transactions.
The rate will apply to electronic transactions that are more than GH¢100 daily. This is different from the 1% telcos charge on transactions.
The levy has sparked controversy because of its impact on mobile money transactions and the impoverished Ghanaians that use it.
We Will Love You To Join Our Over 201k Members Instagram Family With Just One Click @gharticles
Source: GhArticles.com