Our Day: Young Oswald's Petition Lands Him Enough Freebies To Last A year
Young Oswald seems to be the talk of social media following a petition he made to his mother listing things he would want for his 'our day' celebration.
in an early report by GhArticles, Oswald, a nine-year-old Primary 3 pupil petitioned his mother about a list of items. The list which was tweeted by @SmylyThe3rd on Twitter received a massive blowout with many individuals and brands coming out in their numbers to give the young boy the 'our day' he deserved.
Our Day instructions that my colleague's son gave to her. The emotional blackmail at the end 😂😂😂 pic.twitter.com/VrEuUeQYAW

— Gambit ♠️🐻 (@SmylyThe3rd) July 29, 2021
Not only did Oswald make requests for himself but also for Mrs. Appiah, a teacher who is perceived to be his favorite teacher.
Surprisingly, many individuals and brands have and are still showing up at the Christ Ambassador school with mind-blowing freebies. Some big names like award-winning artist KiDi, Samsung, running mate for the 2020 NDC flagbearer Prof Naana Jane Opoku-Agyemang, Dolait, and several banks kept to promise, showed up and showed out during the 'Our day'.
VGMA Best New Artist @mrdrewofficial also showed up to Oswald's School to perform pic.twitter.com/vbN1YvbnS8

— Muse Africa (@museafrica_) July 30, 2021
Singer @KiDiMusic arrives at Oswald's school for his special Our Day performance pic.twitter.com/cKX3AD6iUQ

— Muse Africa (@museafrica_) July 30, 2021
One day car ride in a Jeep Cherokee for Oswald.

Our Day is Oswald's day!🥳💯🇬🇭#PulseGhana pic.twitter.com/nWIVaP2taT

— Pulse Ghana (@PulseGhana) July 30, 2021
Where's Oswald's school located? Pulling up with The team!!

— Dancegod ❤️👑 (@dancegodlloyd) July 30, 2021
We have been informed about this very detailed "our day" petition, and we love it! When they are ready, we'll give him and his class a tour at Ashesi and do our best to convince @PatrickAwuahJr to meet with them! https://t.co/7QhWKAHc37

— Ashesi University (@Ashesi) July 29, 2021
Kw3333 beebiaa ewu😂😂
En3 y3 di3b3n? Our day🕺🏾💃🏽
Fine boy, as #YourBank4Life we are giving you the financial freedom you deserve to celebrate more our days. #MrsAppiah we have opened a KidiStar A/C with an initial deposit of GHS1000. Get in touch ASAP😘#OurDayTreat #MrsAppiah pic.twitter.com/DtEqKnaXY9

— GCB Bank Limited (@GCBBankLimited) July 30, 2021
We hope we're not too late to the Our Day party? 👀. We will be happy to host Oswald and his family this weekend at Azmera 🤗. Kindly DM us. https://t.co/0E4uQ1zsEp

— Azmera Restaurant (@Azmera_Res) July 30, 2021
This level of "smartness" needs to be developed.
DevDex Software will love to give Oswald and his classmates a free coding class in Scratch for the whole vacation period. See you soon in the DMs #OurdayGh https://t.co/OMFrNEdZrf

— DevDex Software LLC (@devdex_software) July 30, 2021
Together with @KiDiMusic, we passed through Oswald's school to hand him a Galaxy Tab A and other goodies for Our Day! Mrs Appiah and her class were also not left out. It's a celebration. pic.twitter.com/VSpZhqL3iH

— Samsung Ghana (@Samsung_Ghana) July 30, 2021
Oswald is such a fascinating & intelligent boy. I am absolutely thrilled by his story.

I am immediately sending to him the latest iPad Pro fully loaded with educational content just as he wishes.

Do have a memorable our day my gem. Will pay you & your class mates a visit soon. https://t.co/DPpGYw5Vaq

— Professor Naana Jane Opoku-Agyemang (@NJOAgyemang) July 30, 2021
I'll be providing 5 bags of Nana's Rice to Oswald. Make he chop local rice then make healthy give we. @NanasRiceGH @AgroKingsGH. This our day go mad 😊🌾😁 https://t.co/LriI8Kxv1i pic.twitter.com/0ahkMuiR8n

— KALYJAY (@gyaigyimii) July 30, 2021
#OurdayGh #OurDay Dear Oswald we are on our way! pic.twitter.com/KMpGlLCwti

— CandyCupid (@candycupidgh) July 30, 2021
Oswald best Yogurt brand #dolat going to surprise him on his Big Day at school. #MrsAppiah #OurDay pic.twitter.com/gcLDzWd4JI

— Dolait_Ghana (@Dolait_Ghana) July 30, 2021
As your loyal partner,we would like to sponsor our nephew Oswald and his family with a Personal Accident Policy and Comprehensive Insurance for a year. Mummy, please DM us! #LoyaltyInsurance #LoyaltyForYou https://t.co/ua8EPc7LN1

— Loyalty Insurance Ghana (@LoyaltyinsGh) July 30, 2021
Oswald is everybody's nephew now! Let's get him started right with a Hollard Life Adepa Goal Save policy which matures in the next 5 years with a return of GHS 20,000. Hollard Life will pay his monthly premium contribution for the first year worth GHS 3,332. Happy Our Day! https://t.co/Kv4MUbHP4y

— Hollard Ghana (@HollardGhana) July 30, 2021
We Will Love You To Join Our Over 100k Members Instagram Family With Just One Click @gharticles
Source: GhArticles.com 
Lady Allegedly Poisoned To Death After She Told Her Friends She Was Traveling To UK (+Video)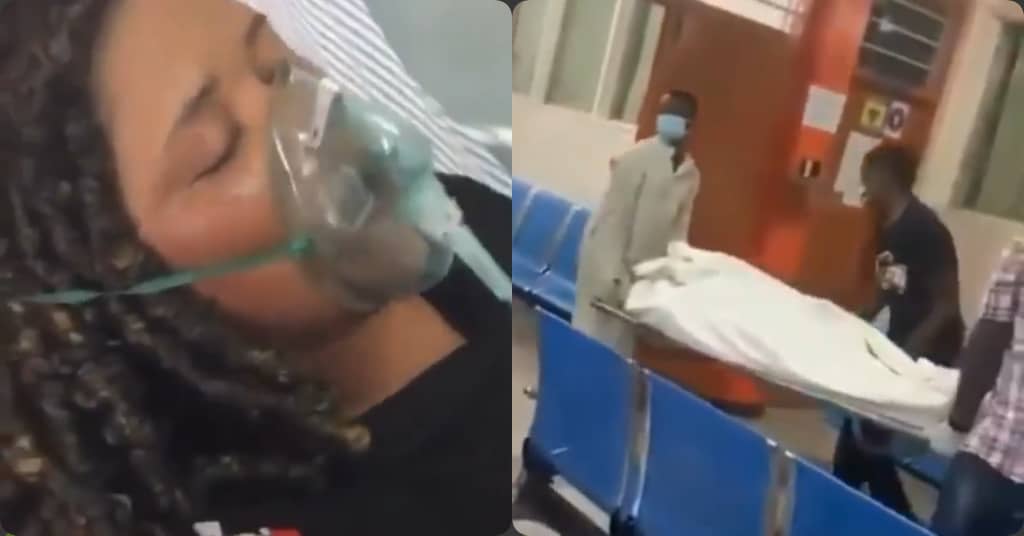 2022 has started so well for some people but for others it is the beginning of bad news.
GhArticles.com have intercepted a viral video of beautiful lady who has been allegedly poisoned to death after she told her friends she was traveling to the United Kingdom.
In the video seen online, the lady could been seen lying on a hospital bed while in oxygen.
She could be seen struggling to gasping for breathe. However, she died eventually.
The next video captured, saw some people carrying the dead body of the lady to be deposited at the mortuary.
What a wicked world. Beware of the people you call friends. Try to keep certain vital information to yourself.
Watch the video below;
We Will Love You To Join Our Over 180k Members Instagram Family With Just One Click @gharticles
Source: GhArticles.com
Facebook Pays Fines To Russia Over Banned Content
Facebook has paid 17 million roubles ($229,643) in fines owed in Russia for failing to delete content Moscow deems illegal, the Interfax news agency reported on Sunday, but with the threat of a potentially larger fine looming.
Facebook parent Meta, along with Alphabet's Google, faces a court case next week for suspected repeated violations of Russian legislation on content and could be fined a percentage of its annual revenue in Russia.
Facebook did not immediately respond to a request for comment on Sunday.
Russia in October sent state bailiffs to enforce the collection of 17 million roubles in fines imposed on Facebook.
Interfax said there were no more enforcement proceedings against the company as of Sunday, citing the federal bailiff service's database.
Moscow has increased pressure on large tech firms this year in a campaign that critics characterise as an attempt by the Russian authorities to exert tighter control over the internet, something they say threatens to stifle individual and corporate freedom.
Interfax said messaging app Telegram has also paid 15 million roubles in fines.
Telegram did not immediately respond to a request for comment.
We Will Love You To Join Our Over 180k Members Instagram Family With Just One Click @gharticles
Source: GhArticles.com
Social Media Users Praise Fresh Ghanaian Girl Dating A Ghetto Guy Living In A Dirty Area [Video]
A Ghanaian young man seems to be shocked at the way his current situation doesn't match up with the beauty of his current girlfriend.
In a viral video trending on social media, the guy showed off his beautiful girlfriend who was following him through to his 'filthy' ghetto without even frowning.
The guy who seemed very shocked took the video of this town moment of theirs in order to motivate other ladies to stay with their guys when things change for him and his cute babe.
Looking at how beautiful the lady was, the video has garnered massive reactions on social media with a lot of netizens pouring in their opinions.
Watch the video below;
View this post on Instagram
We Will Love You To Join Our Over 180k Members Instagram Family With Just One Click @gharticles
Source: GhArticles.com