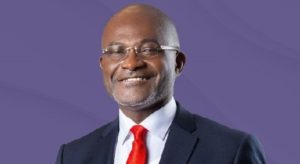 Assin Central Member of Parliament, Kennedy Ohene Agyapong, who is a contender in the New Patriotic Party's Presidential election, has expressed his commitment to rejuvenating Ghana's struggling economy through his Patriotism, Honesty, and Discipline agenda. He believes that his administration can swiftly address the economic crisis by focusing on these three principles, which he refers to as PHD.
Kennedy Agyapong, a successful businessman and presidential aspirant, acknowledged the current economic challenges in Ghana but emphasized that his extensive business background and global experiences have prepared him for this task. He explained that patriotism, one of his key pillars, will reignite national pride among Ghanaians, similar to the way foreigners feel about the country.
Agyapong highlighted the importance of the media and musicians in nurturing patriotism, especially among the youth, by instilling a sense of pride and a desire to defend the nation.
He also emphasized that emphasizing honesty within both the public and private sectors will not only reduce corruption but also contribute to economic sustainability and savings for the country.
Furthermore, Agyapong pointed out that addressing the issue of discipline is crucial to solving Ghana's major problems. He believes that once discipline is restored, the country's economy can rebound, with agriculture, tourism, and technology playing significant roles in making Ghana a key player in Africa.