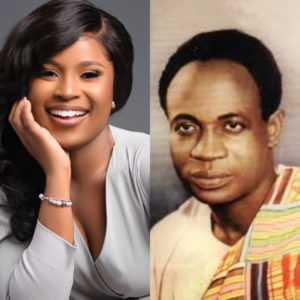 Television personality Berla Mundi recently expressed a controversial viewpoint, suggesting that living under Dr. Kwame Nkrumah's dictatorship might have been preferable to the current and previous governments in Ghana. She made this statement on her Twitter page while highlighting what she believes was significant development during Nkrumah's era compared to the present situation. In her tweet, she questioned why Ghana cannot enjoy the basic amenities that other countries offer.
In essence, Berla Mundi is asserting that despite the authoritarian nature of Nkrumah's rule, she would still choose his governance due to the notable progress and development he oversaw in Ghana. She appears frustrated with the current state of affairs in Ghana, using the hashtags #TravelandSee and #Travelandbesad to express her disappointment. These hashtags imply that instead of taking pride in Ghana's achievements, people are left feeling disheartened when comparing their country to others that seem to have better infrastructure and services.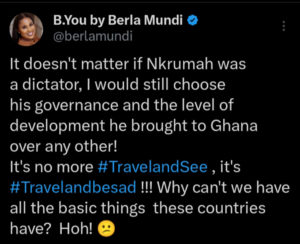 This statement by Berla Mundi has sparked debate and reflects a sentiment shared by some Ghanaians who yearn for improved living conditions and essential services that are on par with more developed nations. It underscores the importance of addressing the country's challenges and striving for continuous progress and development.