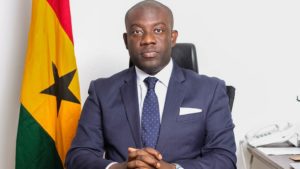 In honour of World Press Freedom Day, the government praised the Ghanaian media for its indispensable role in the country, while emphasising the importance of economic rights in assisting efforts to rebuild faster following the recent global economic challenges.
This year's anniversary, themed 'Shaping a Future of Rights: Freedom of Expression as a Driver for All Other Human Rights,' marks the 30th anniversary of press freedom around the world.
In a statement issued in Accra and signed by the Minister of Information, Kojo Oppong Nkrumah, the government expressed deep gratitude for the media's significant contributions to raising awareness about various rights, but urged a stronger emphasis on economic rights, given recent global challenges and bleak economic forecasts.
"The media has been instrumental over the years, in highlighting various rights that require attention for full enjoyment. The work of the media also in highlighting instances of abuse of some rights by sections of society has led to redress in many instances. We urge the media to remain resolute on this path.
"The quest to have all citizens fully access their economic rights is yet to achieve full effect especially as the world faces dim economic forecasts following recent global challenges.
"While urging the Media in Ghana to keep the spotlight on all human rights, we encourage an even sharper focus on efforts to ensure that the economic rights of citizens are fully actualized," the statement said.
The Ghana Journalists Association (GJA), the Private Independent Newspapers Association (PRINPAG), the Communication Educators platform, the Ghana Independent Broadcasters Association (GIBA), and the National Media Commission (GIBA) have all expressed their support for this government's commitment to media stakeholder groups in Ghana.
In December 1993, the United Nations General Assembly declared World Press Freedom Day on the recommendation of UNESCO's General Conference.
This key day, observed annually on 3 May, commemorates the Windhoek Declaration and serves as a global recognition of the fundamental principles of press freedom and the critical role of a free and independent media in fostering democracy and promoting transparency.
Source: Gharticles.com
join our over 1.4 million followers instagram community by clicking here –> GH ARTICLES