Cardi B Faces Up To 4 Years In Prison In Assault Case
Rap star Cardi B has a hearing Monday in an assault case stemming from a 2018 incident at a New York strip club to which she pleaded not guilty in 2019.
During the incident, Cardi B allegedly threw a bottle at two sister bartenders at the strip club in Flushing.
At a hearing in Queens Criminal Court back in December 2019, the rapper pleaded not guilty to charges of reckless endangerment and assault against the two bartenders who are being identified online as Baddie Gi and Jade. Another website identified the women as sisters Rachel Wattley and Sarah Wattley.
Cardi B is also being accused of ordering her friends to attack the women.
The popular rapper had reportedly been offered a plea agreement of third-degree assault and turned down the offer.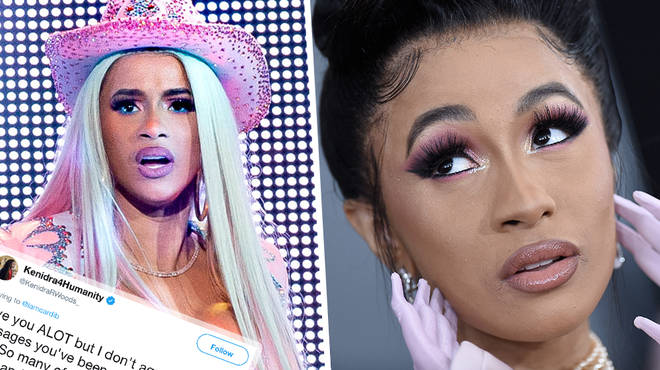 The case seems headed to trial, where, if found guilty, Cardi B could face up to four years in prison.
The court appearance comes right after the rapper's 29th birthday, when she hosted a dancehall-inspired party and was presented with the gift of a mansion in the Dominican Republic from her husband, Migos star Offset.
The incident from which the case is based occurred at Angels Gentlemen's Club in Flushing, where Migos was performing. According to The Shade Room, Cardi "told her posse to attack them with bottles, chairs and a hookah smoking device. The 2 women were both hurt, but refused medical attention."
Initially, Cardi was hit with 14 charges, including two felonies — among them attempted assault with intent to cause serious physical injury — as well as misdemeanor counts on reckless endangerment, assault, criminal solicitation, conspiracy and harassment.
According to NBC New York, there is video footage capturing the "Up" rapper throwing an ice bucket at the Wattleys. She reportedly suspected one of the women of having an affair with Offset, and had previously confronted the sisters in Atlanta.
In a 2019 statement from the sisters' attorney, Joe Tacopina, they are accusing Cardi B of ordering and committing violent assaults against them. The encounter happened less than a month after Cardi B had been escorted out of a New York Fashion Week event after clashing with fellow rhymer Nicki Minaj.
Since the 2018 incident, Cardi has launched the Facebook series Cardi Tries and, this year, recorded two hit collaborations, joining Lizzo on "Rumors" and Normani on "Wild Side."
We Will Love You To Join Our Over 170k Members Instagram Family With Just One Click @gharticles
Source: GhArticles.com/Yahoo
Kanye West Dedicates His Sunday Service To Late Virgil Abloh
Rapper Kanye West has dedicated his latest Sunday service to the memory of his friend and creative director of Donda, Virgil Abloh.
The late artistic director for Louis Vuitton and Off-White founder passed away on Sunday, November 28, 2021.
The 41-year-old died of cancer, according to a tweet by luxury group LVMH.
Many high-profile personalities and celebrates have shared their condolences with the family, including rapper Kanye West.
The service was held hours after Abloh's family announced on Instagram that the late icon had died from a rare and aggressive form of cancer called cardiac angiosarcoma.
The choir delivered an emotional rendition of Adele's hit single 'Easy on Me' from her new album 30 with the message "In loving memory of Virgil Abloh, the creative director of Donda," on the site, which remained after the event.
Kanye West dedicates his latest Sunday Service to the memory of Virgil Abloh 🕊 pic.twitter.com/WS91D3JQ01

— digitalfeedmedia (@digitalfeedtv) November 29, 2021
According to Vogue, Virgil Abloh and Kanye West, both Chicago natives, began working together in 2002. Through a solid partnership, the pair collaborated on various projects, including Kanye's 2011 joint album with JAY-Z called Watch the Throne which led to a Grammy nomination for Abloh.
A statement on his official Instagram account read:
"We are devastated to announce the passing of our beloved Virgil Abloh, a fiercely devoted father, husband, son, brother, and friend. He is survived by his loving wife Shannon Abloh, his children Lowe Abloh and Grey Abloh, his sister Edwina Abloh, his parents Nee and Eunice Abloh, and numerous dear friends and colleagues…
"We thank you all for your love and support, and we ask for privacy as we grieve and celebrate Virgil's life."
We Will Love You To Join Our Over 170k Members Instagram Family With Just One Click @gharticles
Source: GhArticles.com
Student Sentenced To Death By Firing Squad For Smuggling Squid Game Into North Korea
A man has reportedly been sentenced to death in North Korea for smuggling copies of Netflix's blockbuster series "Squid Game" into the country.
According to Radio Free Asia (via Variety), authorities were led to the man after they caught high school students watching the series.
The report states that "Squid Game" was smuggled into the country from China through the use of a USB flash drive. "Squid Game" is not available in China but remains popular thanks to piracy websites.
The smuggler faces death by firing squad, while the students involved in bringing "Squid Game" in to school are facing prison sentences.
Radio Free Asia reports: "A student who bought a drive received a life sentence, while six others who watched the show have been sentenced to five years hard labor, and teachers and school administrators have been fired and face banishment to work in remote mines."
Created by Hwang Dong-hyuk, "Squid Game" is a South Korean survival thriller that follows a group of contestants who agree to participate in a mysterious survival game with a grand prize total of nearly $40 million.
The game includes hundreds of contestants who play traditional children's games with deadly twists. Lee Jung-jae, Park Hae-soo, and Wi Ha-joon star.
All nine episodes of the show's first season debuted in September, and the show became a word-of-mouth sensation.
"Squid Game" amassed 1.6 billion hours viewed in its first 28 days of release, making it the biggest Netflix original TV series in history and the single biggest piece of original Netflix content.
As noted by Variety: "In December 2020, North Korea passed the 'Elimination of Reactionary Thought and Culture' act, which prohibits the entry and dissemination of cultural material like films, plays, music, and books in the country.
The act is mainly aimed at preventing the spread of media from South Korea and the U.S. and those found distributing or consuming these are liable to be punished.
According to widespread reports, in April this year a man was publicly executed for selling drives and CDs containing South Korean material."
Meanwhile, "Squid Game" is now streaming on Netflix globally. The streaming giant has yet to announce a second season, although its creator has said publicly that another round of episodes will happen.
We Will Love You To Join Our Over 170k Members Instagram Family With Just One Click @gharticles
Source: GhArticles.com
No Makeup Photos Of Your Favorite Celebrities That Broke The Internet
The world comes to a stste of confusion when we see our female celebrities without makeup. Pp
Following the recent no makeup photo of Hajia Bintu that broke the internet as fans refused to believe that was the photo of our favourite glossy TikTok celebrity.
GhArticles.com has put together similar photos of other mainstream female celebs.
Ultimately makeup has been identified as a woman's biggest beauty accessory that makes them confident and hides all their flaws. It has must be noted that most of these celebs herein look great even without makeup.
Here are some of your favs without makeup
Afia Schwarzenegger
Hajia Bintu
Serwaa Armihere
Nana Ama McBrown
Berla Mundi
Wendy Shay
We Will Love You To Join Our Over 170k Members Instagram Family With Just One Click @gharticles
Source: GhArticles.com