Black Sherif's Second Sermon: Obinim Breaks Down
The Founder and Leader of International God's Way Church, Angel Bishop Daniel Obinim, has been enthralled by the lyrical prowess of Black Sherif.
Read Also: I Knew I'd Be A Star After Ajeezay Took Me To Adom FM For My First Interview – Black Sherif [Video]
In a video that has gone viral, the popular pastor was seen trying to decipher what the young artiste was preaching in his song 'Second Sermon'.
Obinim who seemed impressed by Black Sherif said he was introduced to the music by his son, Junior.
Asked why he likes the song, Junior told his dad that he "just loves" the Kumerican artiste.
Bishop Obinim proceeded to break down the message in the first verse explaining that Black Sherif is telling a sad story.
He said, with a laugh, that the young man needs prayers.
Some Ghanaians on social media have since been reacting to Obinim's breakdown.
when you find out Angel Obinim is taking your Breakdown job pic.twitter.com/fy5xibm5Ij

— sheldon. (@ksheldongh) July 28, 2021
Ohw! Ridee obinim want make @KwadwoSheldon2 jobless 🤔🤔🤔
Breakdown pastor but he no break ein church members life down oo

— Kofi Triga😍 (@KofiTriga) July 28, 2021
Obinim start dey do music breakdown. @YawaOfTheDaaY must be shaking right now 😂😂🤣🤣🤣🤣

— Pablo Nba💰 (@Pablonba25) July 28, 2021
If Obinim can turn to snake why get so surprised sake of he turn to content nyame to breakdown sherif en lyrics. Osofo no yɛ gee ruff 😂 😂 😂

— Bra. Sticky💎🥇🌟 (@BraLovelace) July 28, 2021
Obinim make I understand this part well well. 🤩pic.twitter.com/HmwozxuOtd

— iEfo FiLeY 🔞🇬🇭 (@efo_phil) July 28, 2021
You may not like Angel Obinim but his breakdown of Black Sheriff's 'Second sermon' song is the best thing you'll find on the internet today!😂😂😂🖤

— NERD PAGGE 🇬🇭 (@iamsamuelpagge) July 28, 2021
We Will Love You To Join Our Over 100k Members Instagram Family With Just One Click @gharticles
Source: GhArticles.com 
Video Of Coach Milovan Having His Last Dance With The Black Stars Before He Was Sacked Surfaces Online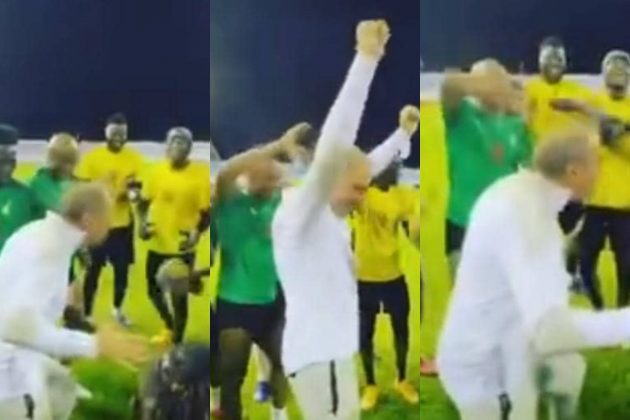 Milovan, the former Black Star Coach, was seen dancing with the players before he was sacked in a video that has gone viral, prompting some internet users to label them irresponsible.
Coach Milo was fired after the Black Stars were eliminated from the AFCON group stages and Ghanaians were dissatisfied with the team's performance, which was nothing to write home about, leading to his removal.
Coach Milo is seen dancing with some of the players during training for an AFCON match that they were booted out of, and it has been dubbed his final dance with the squad before his departure.
Other netizens voiced their displeasure with the coach and the entire squad who were dancing, claiming that while some Ghanaians were busy praying for their teams to win their matches, they were instead dancing during training time.
We don't know when this video was taken, but some say it was recently, which would explain why they were knocked out of the game so quickly since they were dancing instead of prepping for their bouts.
See the video below;
View this post on Instagram
We Will Love You To Join Our Over 190k Members Instagram Family With Just One Click @gharticles
Source: GhArticles.com
Ghanaians React To The Resignation Of The Ayew Brothers From Black Stars
An unconfirmed report circulating on social media indicates that the Ayew Brothers (Dede Ayew and Jordan Ayew) have reportedly resigned from the Black Stars.
The 'Ayew Brothers' as they are often called have been a key part of the Black Stars team in the last decade.
Although they have been responsible for scoring some of the most important goals for the national team in that period.
They have been criticized by Ghanaians when things do not go well.
After a disappointing Ghana showing at the 2021 TotalEnergies Africa Cup of Nations (AFCON) tournament in Cameroon.
Reports coming in late Wednesday, January 26, 2022 are suggesting that both Andre Dede Ayew and Jordan Ayew have decided to quit Black Stars.
Ghanaians on social media have reacted to the news of their resignation from the Black Stars following the 2021 Afcon woes.
See some reactions below;
I wonder the offense of Dede and Jordan, after all their efforts.

If these two quit, Asamoah Gyan can now go shred some weight, stay active and take over Black Stars as he had always wished !! pic.twitter.com/oIAtjcR9kF

— Zeinab Alhassan Gimbo (@GimboZeinab) January 27, 2022
Thomas Partey hasn't been productive for the Black Stars but you people are not talking about it, ebi Dede you people make happy say he dey quit.

— desmond, (@believe_desmond) January 27, 2022
Dede Ayew and Jordan Ayew dey want quit blackstars? Small insult norr u want quit? Next time, respect Asamoah Gyan, that man taya waa

— Adepa Ama 💙 (@Etwepaa) January 27, 2022
Dede Ayew has served Ghana so diligently over the last decade, was even part of the team that made it to the final in 2015 yet all he receives now is abuse n hate.

We act this way towards players who hv given their all n act surprised when young players reject Call ups

— Benjamin Kesse (@Nana_kesse1) January 26, 2022
Headline: Dede Brothers set to quit Black Stars

Comment Section: Good riddance. Finally. Good News etc

Not even a comment saying Thank You for your yrs of service especially Dede who gave his all in the last 10yrs.

This be the people you want players to die for? Wabodam

— Benjamin Kesse (@Nana_kesse1) January 27, 2022
Dede ayew should also be sack with his tibonkoso brother they are destroying the black stars not forgetting Kurt okreku too wabon tu

— morata ♥️🇬🇭 (@kwadasomorata) January 26, 2022
Dede Ayew thank you for the goals,
Jordan thank you for the 2019 Afcon group stage performance but it's time to go 🔥🔥🔥

— Pius Asante 🇬🇭✨ (@PiusAsante1) January 26, 2022
We Will Love You To Join Our Over 190k Members Instagram Family With Just One Click @gharticles
Source: GhArticles.com
Video Of Dede Ayew Sprinkling A White Powder On The Pitch Before Their Match Causes Stir Online (Watch)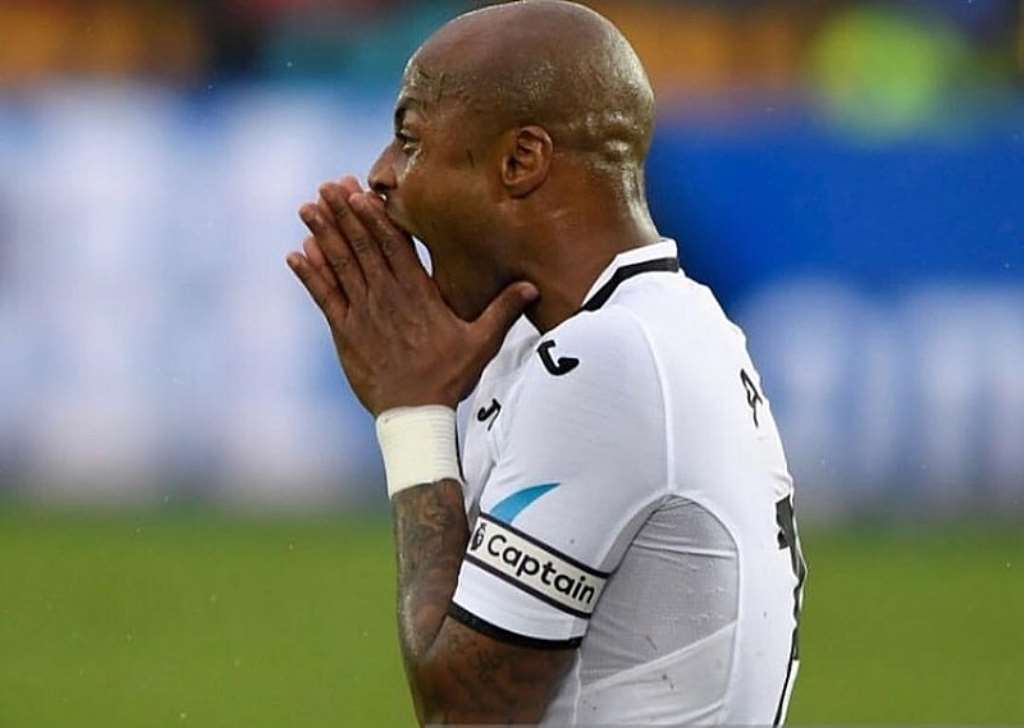 Black Stars captain, André Dede Ayew, has been spotted throwing white powder on the ground before their match, and this has sparked a debate on social media as to what it symbolizes.
The Black Stars were knocked out of the AFCON, and a video showing Dede Ayew spreading white powder on the pitch before their match went viral a few days later, eliciting conflicting emotions from social media users.
The most common question is what precisely he was sprinkling on the pitch and why, since some feel it has a significance that may have resulted in Ghana getting thrown out of the game during the group stage.
Others don't find anything wrong with someone sprinkling stuff on the field before a game, questioning the significance of the video uploaded because they see nothing positive or negative in it.
Some people have questioned why Dede Ayew will be dusting that white powder on the field and what its function is, especially because some of the other players were spotted on the pitch with him but didn't seem to notice what he was doing.
Watch the video below;
We Will Love You To Join Our Over 190k Members Instagram Family With Just One Click @gharticles
Source: GhArticles.com