Barcelona Appoints Interim Coach After Koeman's Dismissal
Barcelona have named their 'B' side coach Sergi Barjuan as interim manager following the departure of Ronald Koeman, the LaLiga club said in a statement on Thursday.
Dutchman Koeman was sacked after Barca's 1-0 loss to Rayo Vallecano on Wednesday, their fourth defeat in six games in all competitions.
"(Barjuan) shall be taking provisional charge of the technical management of the senior squad. His interim position as first-team head coach shall end as soon as the club has hired a full-time head coach to replace the dismissed Ronald Koeman," the club said in a statement.
Former midfielder Xavi, who enjoyed a trophy-laden 17-year career at the club and is currently head coach of Qatari side Al Sadd, is widely tipped to take over on a permanent basis.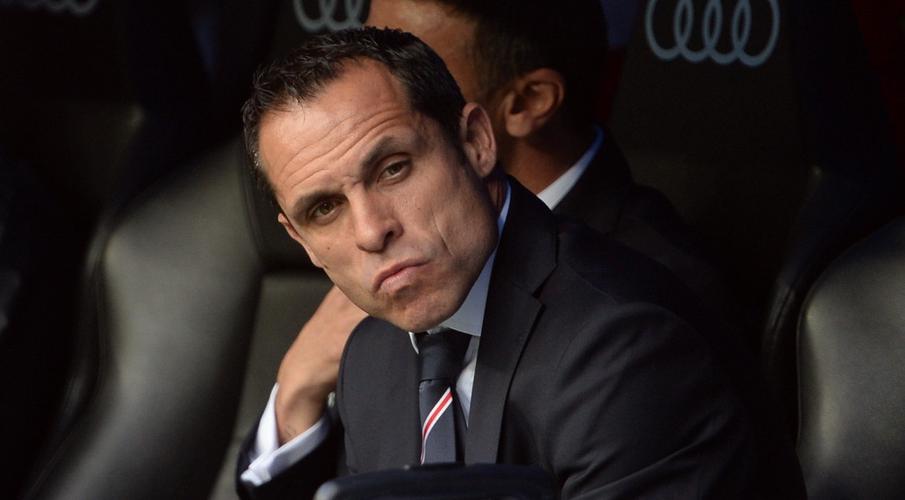 Barcelona said president Joan Laporta would officially introduce Barjuan to the first team squad later on Thursday at the club's Ciutat Esportiva training ground.
Barjuan will be presented to the media on Friday before concentrating on the task of preparing the side for the LaLiga clash with Alaves in which the Catalan club will be seeking to avoid a third successive league defeat.
They are ninth in the standings with 15 points from 10 games while in the Champions League they face a crucial match away to Dynamo Kiev on Nov. 2 when defeat would leave them in serious danger of failing to reach the knockout phase.
While Barjuan has been entrusted with steadying the ship, it looks increasingly likely that Barcelona have earmarked former Spain international Xavi as Koeman's replacement.
He was a key player in a golden era for the club before leaving in 2015 to play for Al Sadd, then taking over as head coach in 2019 after hanging up his boots.
In April, the 41-year-old led the team to the Qatari domestic league title while remaining unbeaten. He lifted his seventh trophy as Al Sadd boss just a few days ago as his team beat Al Rayyan 5-4 on penalties to win the Emir Cup.
Xavi is under contract with Al Sadd until 2023.
We Will Love You To Join Our Over 170k Members Instagram Family With Just One Click @gharticles
Source: GhArticles.com
Cristiano Ronaldo Reacts To Ballon d'Or Lies After Missing The Event
Cristiano Ronaldo has released a pointed statement towards Pascal Ferre, the editor-in-chief at France Football magazine, who claimed the Manchester United striker's only ambition is to end his career with more Ballon d'Or trophies than Lionel Messi, something the Portuguese star has vehemently denied.
Ferre was branded unacceptable by Cristiano, who also claimed the France Football chief was lying in the statements he made, in order to profit from Ronaldo's name.
Ferre told the New York Times: "Ronaldo has only one ambition, and that is to retire with more Ballon d'Ors than Messi…. And I know that because he has told me."
Incidentally, Ronaldo was absent from Monday evening's Ballon d'Or ceremony with the award organised by France Football.
Ronaldo's statement:
Today's outcome explains Pascal Ferré's statements last week, when he stated that I confided in him that my only ambition was to finish my career with more Golden Balls than Lionel Messi. Pascal Ferre lied, he used my name to promote himself and to promote the publication he works for.
It is unacceptable that the person responsible for awarding such a prestigious prize could lie in this way, in absolute disrespect for someone who has always respected France Football and the Ballon d'Or. And he lied again today, justifying my absence from the Gala with an alleged quarantine that has no reason to exist. I always want to congratulate those who win, within the sportsmanship and fair-play that have guided my career since the beginning, and I do it because I'm never against anyone.
I always win for myself and for the clubs I represent, I win for myself and for those who love me. I don't win against anyone. The biggest ambition of my career is to win national and international titles for the clubs I represent and for the national team in my country.
The biggest ambition of my career is to be a good example for all those who are or want to be professional footballers. The biggest ambition of my career is to leave my name written in golden letters in the history of world football.
I will end by saying that my focus is already on Manchester United's next game and on everything that, together with my teammates and our fans, we can still achieve this season. The rest? The rest is just the rest.
We Will Love You To Join Our Over 170k Members Instagram Family With Just One Click @gharticles
Source: GhArticles.com
Tiger Woods Announces His Retirement As A Full-Time Golfer
It's sad to know that it's truly the end of an iconic era, as golf legend Tiger Woods has just revealed a heartbreaking announcement that his fans are likely to take pretty hard.
During a recent interview, Tiger Woods officially confirmed that his days as a full-time golfer are now a thing of the past due to the severe injuries he sustained in a car accident earlier this year.
@CNN reports, Tiger Woods recently gave an in-depth interview with 'Golf Digest' where he spoke publicly about his Febrile car accident——and revealed that his golfing future is practically a thing of the past. Speaking about his decision to no longer golf full-time, Tiger said "I think something that is realistic is playing the tour one day, never full time, ever again, but pick and choose."
He continued, adding "Pick and choose a few events a year and you play around that. You practice around that, and you gear yourself up for that. And you play. I think that's how I'm going to have to play it from now on. It's an unfortunate reality, but it's my reality. And I understand it, and I accept it."
Speaking about the extreme physical toll his car accident had on his body, Tiger Woods also explained the multiple surgeries he has endured this year——and that he still has a long road to full recovery.  "I have so far to go. … I'm not even at the halfway point. I have so much more muscle development and nerve development that I have to do in my leg. At the same time, as you know, I've had five back operations. So as the leg gets stronger, sometimes the back may act up. … It's a tough road."
We Will Love You To Join Our Over 170k Members Instagram Family With Just One Click @gharticles
Source: GhArticles.com
Alexia Putellas Wins Women's Ballon d'Or 2021
Barcelona and Spain midfielder Alexia Putellas has won the 2021 women's Ballon d'Or.
Alexia Putellas was one of five players nominated from the Barcelona team following their first Champions League triumph along with winning the Primera Division title.
She was the highest-scoring midfielder in Europe with 26 goals in all competitions last season.
The 27-year-old was also named UEFA's Women's Player of the Year and midfielder of the year.
Barcelona team-mate Jennifer Hermoso was second, with Chelsea forward Sam Kerr third and Arsenal striker Vivianne Miedema fourth.
Speaking through a translator at the Paris ceremony, Putellas said: "I'm very emotional, it's a very special moment.
"I would like to start by thanking all my team-mates, especially my current [Barcelona] team-mates. For me it's a collective success."
The only previous women's award winners are Norway striker Ada Hegerberg in 2018 and USA forward Megan Rapinoe in 2019.
The 2020 awards were cancelled because the coronavirus pandemic disrupted the season.
The men's award followed afterwards with PSG and Argentina forward Lionel Messi winning his seventh Ballon d'Or.
👸 𝐐𝐔𝐄𝐄𝐍 𝐎𝐅 𝐓𝐇𝐄 𝐖𝐎𝐑𝐋𝐃@alexiaputellas @FCBfemeni #BallondOr pic.twitter.com/I1jtxZ5rZH

— FC Barcelona (@FCBarcelona) November 29, 2021
We Will Love You To Join Our Over 170k Members Instagram Family With Just One Click @gharticles
Source: GhArticles.com