4 Types Of Behinds That Drive Ghanaian Men Crazy
Men have different tastes and preferences. The shape of a woman's behind is among the aspects most men to at when approaching one of them.
There are different types of women's backside you are likely to come across. Here are four of the common ones.
 Square
There are many women with square behinds. If the line between her outer thigh and the hip bone is perpendicular to the ground then she has this type of behind.
Women with squares behind look great when they put on heels. They can also stand out from the crowd with different forms of dressing.
V-Shape
Women with a line between the hips and pelvis have a V-shaped backside. The shape is common among women with broader shoulders. Women blessed with such a backside look great when they dress in a pair of jeans.
A-Shape
This type of behind resembles a pear. The area below the hips is wider. The shape often stems from fullers thighs. Men often go mad when they see a woman with an A-shaped backside.
Round
Men cannot stop staring at a woman with a round shaped backside. The shape is ideal for both short and tall women. A round backside looks great in different outfits. It also makes a man go crazy when he sees a woman passing by.
Source: GhArticles.com
Hey Ladies; Do You Know Wearing Heels Can Have Adverse Effects On Your Health? Here How
In today's world of fashion, many people opt for heels to complement their outfit at work, at official events, and especially parties. With the popularity of pumps, wedges, and other shoes, I believe it is important to create awareness about what is happening to our bodies when we wear heels, especially pencil heels, and give people an opportunity to make informed decisions.
I reckon I should have written this article a long time ago but I guess it has taken me a while to get my head around my own personal experience with pencil heels and how it almost changed my life forever.
Eric Baskin, a podiatrist (a specialist in care for the feet) mentions how high heels can cause pain in the spine, knee, hips, ankle and feet. According to him, when you wear heels, it shifts your body weight forward and your toes and the ball of your foot are responsible for absorbing the pressure when you stand or walk. High heels can cause a shockwave to the body from the feet through the spine which can lead to adverse effects in the body.
Some of these effects are:
Nerve pull
Back and knee pain
Arthritis in the spine
Constrict blood vessels
Shortened Achilles tendon
Sore calves
Haglund's syndrome (abnormality of the bone and soft tissues in the foot)
Osteoarthritis
Weak ligaments
Hammer toes (deformity of the second, third or fourth toes)
Bunion (painful swelling of the bursa of the first joint of the big toe)
Metatarsalgia (pain in the ball of the foot)
Ankle sprains
Poor posture
Foraminal Stenosis (the narrowing of the cervical disc space caused by enlargement of a joint)
Hyperextension in toes (happens when you bend your big toe up toward the top of your foot too far)
Podiatrist and many health and safety specialists like me understand that high heels are not going anywhere as it is an important fashion statement, however, we believe certain measures need to be taken to protect our body from health risk.
What to do?
Limit the number of times you wear heels
Wear the appropriate  shoe size
Wear short heels
Stretch your foot before and after you wear heels
Use of orthotics (prescription medical devices that you wear inside your shoes to correct biomechanical foot issues)
Soak your feet in warm water with Epsom salt to relax the muscles in the feet and improve circulation.
Teenage girls should avoid wearing heels as it can affect their posture as they are still in developmental stages.
Reduce wearing of pointed toe shoes
I remember my physiotherapist telling me that if I did not take better care of my knees, it might result in me needing surgery as my knees were weak and disjointed when I first went in for treatment. I have no plans for that to happen, so I have resolved to take better care of my body, particularly my back and knees. I eat healthy, I go on long walks, visit the gym and most importantly, I do not wear pencil heels and the only few heels I have are kitten heels and short block heels which I rarely wear.
One important piece of information is weight. He advised me to lose weight in order to reduce the pressure my body puts on the heels – which weakens my knees. Asides losing weight, I made it a point to also go to the spa regularly for deep tissue massage with special focus on my back and knee. It's better to be safe than sorry.
We Will Love You To Join Our Over 150k Members Instagram Family With Just One Click @gharticles
Source: GhArticles.com
Style Guide: 7 Anita Akua Akuffo Of TV3 Amazing Looks On The 'Gram
Ghanaian media personality, Anita Akua Akuffo knows how to style up in a stunning way and she is making a bold fashion statement.
No wonder she's noted as one of the female fashionista in the entertainment industry.
Whether an entrepreneur or manager of a company or a TV/radio presenter, you have to dress like a woman who commands respect while leading your team.
TV personality and host of TV3 Ghana Most Beautiful reality show, Anita Akua Akuffo always looks simple and elegant and she always chooses the right accessories and footwear to match her outfits.
The fashionista turns up looking glammed and stunned in splendid outfits over the years. From moderately toned pieces to bright non-boring style, the screen goddess is certainly rocking them and we are here for it.
Although her fashion sense is nothing like we haven't seen before, we love how cool she presents them anytime she steps on the 'gram.
She is redefining style and fashion for upcoming celebrities through her daily sartorial choices.
We spotted amazing designs on Anita Akuffo on the gram. She made a fashion statement in that beautiful outfit.
Check below for inspirations;
We Will Love You To Join Our Over 150k Members Instagram Family With Just One Click @gharticles
Source: GhArticles.com
Meet The 5 Women With Unique And Strange Body Features [Photos]
Rain Dove got into the modeling business accidentally, she lost a bet with a friend and went to a Calvin Klein male casting call. The girl walked topless on the catwalk and got a contract as a male model.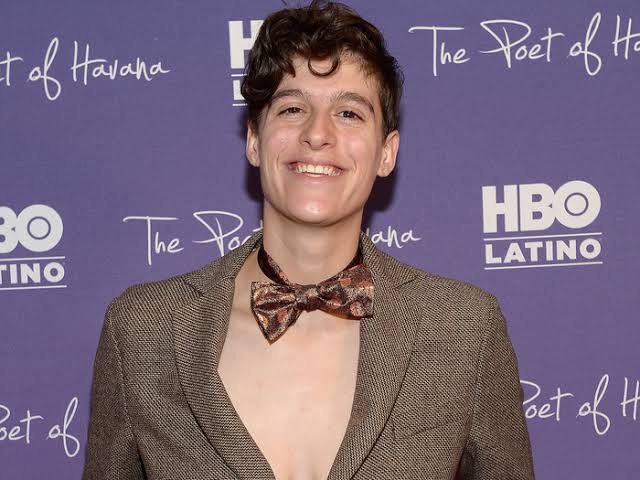 But she decided to participate in both women's and men's shows. With an androgynous appearance and a height of 188 cm, Rain achieved her goal — she used to work as a locksmith, and even a firefighter (thanks to her muscular body).
Tsunaina
Meet Tibetan model, Tsunaina — this is the only woman in the world to appear on the covers of magazines because of the bridge of her nose, and cat's eyes.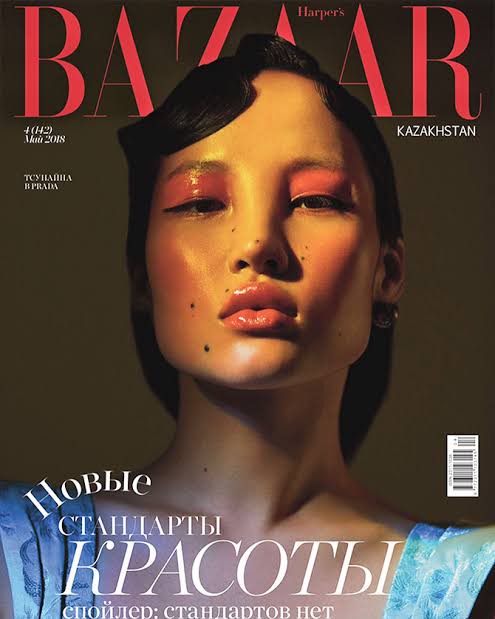 She is among one of the most sought-after models in the world; however, the girl says that music is more interesting to her than modelling.
Lure Hsu
How old do you think the woman in the photo above is? Surprisingly, Lure Hsu is 45-years-old. According to her, she revealed that she has managed to stay young because she eats right and drinks a lot of water (of course genetic help).
Looking at her family photo above, you'll never guess where her 63-year-old mother is in the photo. Looking at the photo above, you would agree with me that they look like teenagers.
Duckie Thot
It's hard to believe that this girl's sleek hair and jet black skin were created by nature and not a doll factory. She took a photo that became viral and perplexed the internet community.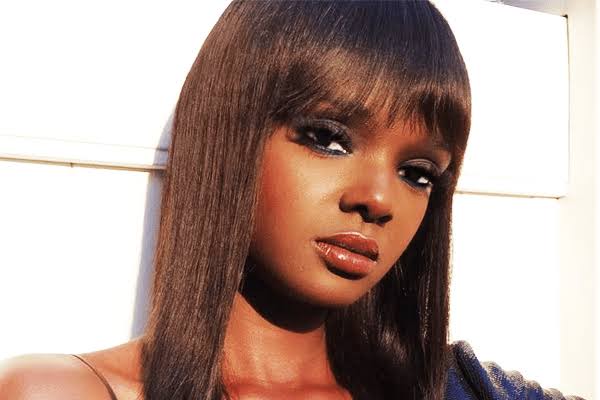 Although, she was constantly exposed to Cyber-bullying which later made her disappear from the fashion industry for two years. Fortunately, she coped with the bullying and moved to New York, where she's now a very popular model.
Russian contortionist, Zlata wasn't dubbed the elastic girl for no reason. The way she flexibly moves her body made her win the Guinness World Record, surprisingly, Zlata can fit into a 50 cm box.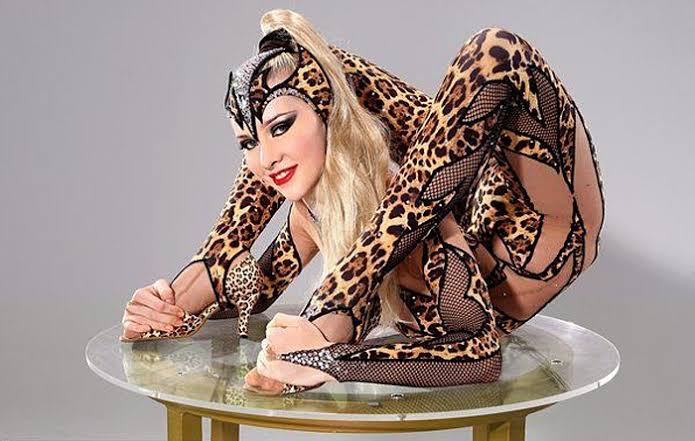 As her popularity grew larger, she also decided to top her game in contortion by posing unbelievable flexibility moves on featured calendars.
Source: GhArticles.com/operanewsapp.com