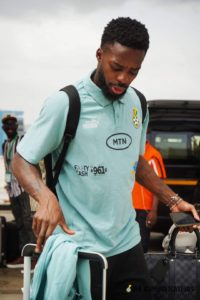 The Ghanaian national football team, famously known as the Black Stars, has landed in Moroni, the capital of Comoros, geared up for a crucial showdown in their FIFA World Cup qualifier on Tuesday. Eager to secure a second consecutive victory following their hard-earned win against Madagascar in Kumasi, the team is poised to make their mark in this pivotal match.
In the previous clash against Madagascar, Inaki Williams emerged as the hero with a stunning header finding the net just moments before stoppage time, sealing a nail-biting 1-0 victory. The team hopes to carry forward this momentum and continue their winning streak against Comoros.
Adding further intrigue to this encounter is the memory of their last meeting in the 2022 Afcon group stage, where the Black Stars suffered a 3-2 defeat at the hands of Comoros, leading to their untimely exit from the tournament. With redemption on their minds, the Ghanaian squad aims to turn the tables and assert their dominance on the field.
A win in this upcoming match against Comoros holds significant weight for Ghana, as it would propel them to the top of their group standings, provided Mali fails to secure a win or draw in their concurrent fixture.